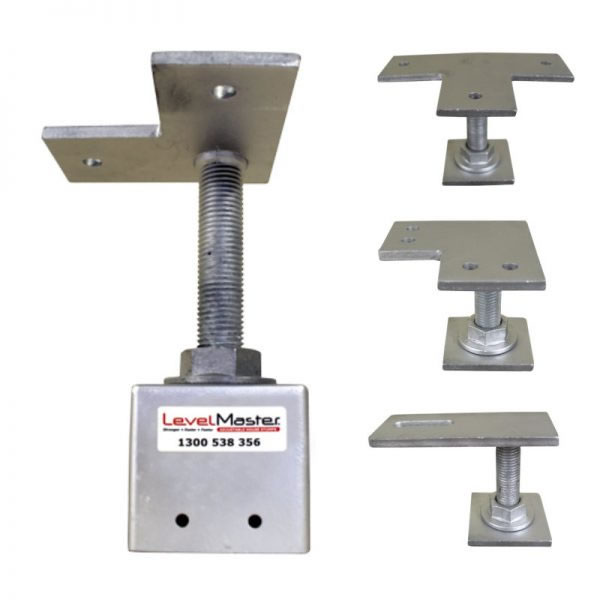 LevelMaster Stumps
House re-stumping or new stumps?
Used on stumped buildings, LevelMaster is a patented product that is stronger, easier and faster than using traditional stumps. The install speed and ease of adjustment also reduces total onsite labour.
We offer two kinds of connectors...
Weld on: In situations where maximum strength is required (eg cyclone rated areas) we offer the weld on version of our LevelMaster connectors. This type of connector will be specified by the design engineers to meet or exceed wind rating uplifts.
Screw on: The more popular method is to secure the connector using 14g Class 4 TEK screw. By using this method of connection, we can still meet or exceed most building requirements up to N3 wind ratings. The main benefit achieved is the time saved in assembly with no on site welding required.
Easy to Adjust: Compared to traditional prefabricated steel stumps, LevelMaster stumps are easy to install and get all points level in a fraction of the time.
Quality and Durability: All LevelMaster Stump connectors, bases and tops have been treated to a hot dipped galvanising process to increase durability and extend stump life.
Fast results: In the past, house stumping or re-blocking could take up to 3 weeks to level a house. LevelMaster tools can get your house level in less than half of that time.
Save on labour:
Other stumping methods can be costly to install, as they require specialist tradesmen with high ongoing costs. LevelMaster on the other hand is quick and simple to install saving on labour.
Height matters:
The maximum legal height for repacking to level with traditional re-stumping/ house levelling is 50mm. In contrast Level Master's house stumps have a screw height adjustment of up to 120mm due to their unique design. The stump remains adjustable for the life of the building.
Pre-fabrication:
LevelMaster provides a FREE assembly service to save you even more time on the jobsite. Just let us know the details (heights, connector top and bases) and we will do the rest. We can even ship direct to site (freight charges apply) if required.