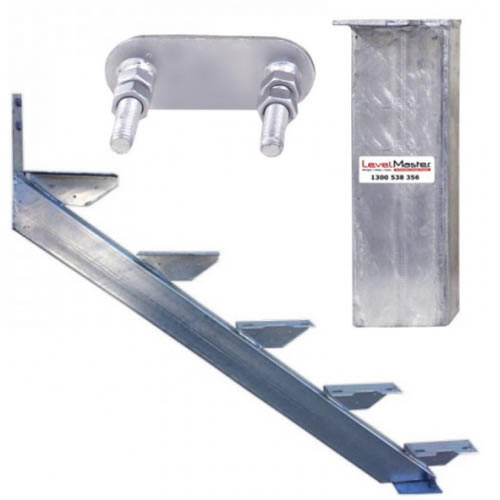 LevelMaster Stairs
LevelMaster stair stringers are a superior product, expertly designed to stand the test of time. All stringers are hot dip galvanised after fabrication, resulting in corrosion protection inside and out.

LevelMaster supplies the only adjustable stair stringer base that has been properly engineered and designed. Therefore all stair stringers are manufactured to the requirements of the Australian Building code and to suit standard rise and going measurements. Rise 175mm : Going 250mm.

If you have special rise requirements, we can also supply non-standard rise brackets.We also have hardwood step treads in several sizes, and stock the bolts to suit. You can purchase your stringers, treads and bolts in 1 order.

Our stair stringers are available in two different types, cast in or bolt down. Make sure you choose the correct stair stringer for your needs based on how you plan to fix the base of the stringer (cased in concrete, or bolted down) both types cost the same.